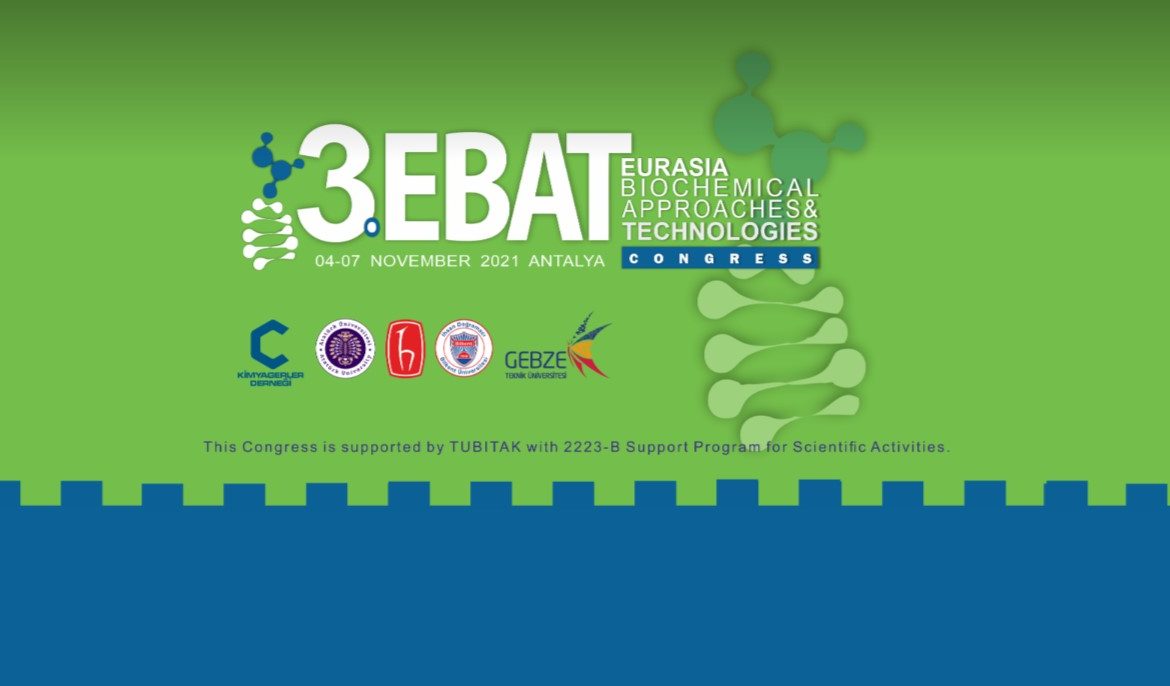 Dear Scientists and Delegates from Public or Private Sector,
It is our great pleasure to invite you to participate in the "3rd EURASIA BIOCHEMICAL APPROACHES & TECHNOLOGIES (EBAT) CONGRESS" which will be held from 4- 7 November 2021, at the Mirage Hotel, in Antalya/TURKEY, hosted by the Turkish Chemists Society.
The 3rd EBAT congress will focus on researches and academic or industrial strategies in the many disciplines related with biochemistry such as protein purification and technologies, industrial enzyme applications, molecular biochemistry, bioengineering, bionanotechnology, bioinformatics, biophysiscs, bioanalytics, biosorption, biochemistry of natural products, biomaterials, and biological activity assignment.
Nowadays, the developments in all these fields can have opportunities to apply in many industries such as food, drug, agriculture, dye, textile, cleaning, and cosmetics. Therefore, it is aimed in this congress that recent advances in approaches and applications about the disciplines ordered above will be discussed in addition to standard well established methods and applications. In this context, a natural scientific environment for the exchange of ideas and experience between dynamic, experienced and well-equipped scientists will be developed by taking into account the needs and expectations of the industry.
Besides a satisfying scientific program, we also would like to present to you an opportunity to have a breathe in the good atmosphere of Antalya city with this congress.
Once again thank you for your contributions and interest to our congress and we are looking forward to welcoming you in Antalya/TURKEY from 4-7 November, 2021.
For further information about the congress, please visit our web page
3. EURASIA BIOCHEMICAL APPROACHES & TECHNOLOGIES CONGRESS EBAT 2021 düzenleyicisi
Etkinlik başlangıcı
Etkinlik sonu
Etkinlik Sona Erdi
0

days

0

hours

0

minutes

0

seconds
Zaman Çizelgesi

Misafirler

Katılım

Mağaza

Hava Durumu Tahmini

Yorumlar
Hava durumu verileri şu anda bu konum için mevcut değil
Hava Durumu
Bugün stec_replace_today_date
stec_replace_current_summary_text
stec_replace_current_temp °stec_replace_current_temp_units
Rüzgar stec_replace_current_wind stec_replace_current_wind_units stec_replace_current_wind_direction
Nem stec_replace_current_humidity %
Hissedlien stec_replace_current_feels_like °stec_replace_current_temp_units
Hava Durumu Tahmini
Tarih
Hava Durumu
Sıcaklık
stec_replace_5days
Tarafından desteklenmektedir openweathermap.org