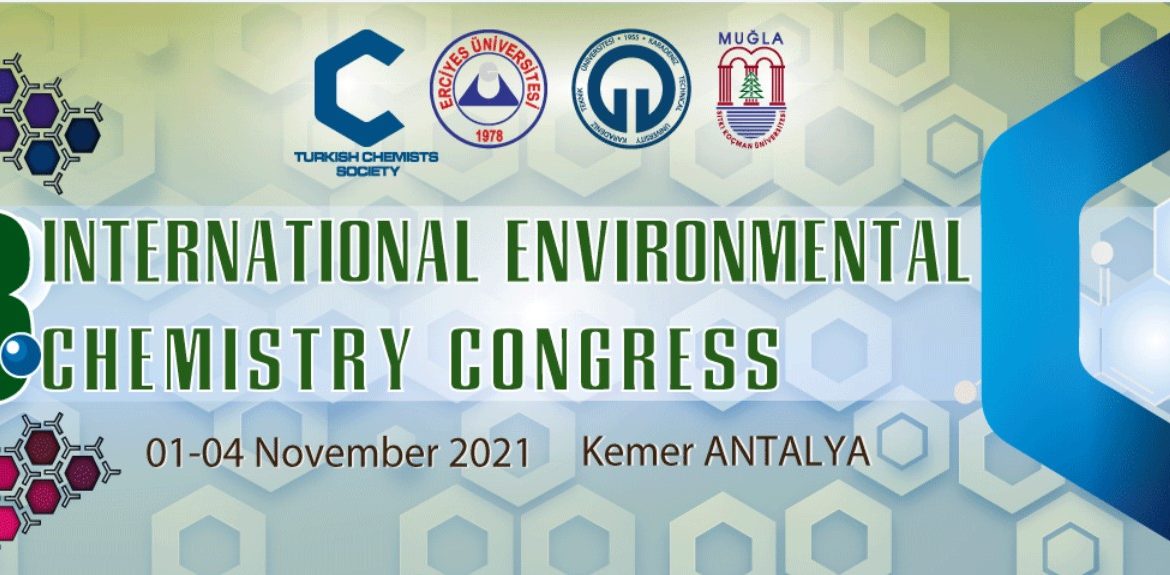 As you are aware, the world is slowly recovering from the destructive impact of COVID-19. We are hopeful we will resume in-person meetings later this year after the planned vaccination. We are pleased to invite you to join the 3rd International Environmental Chemistry Congress (EnviroChem) being organized by the Turkish Chemist Society. The congress will be held in Antalya, Turkey, from 01-04 November 2021.
The Turkish Chemist Society (Kimyagerler Derneği) is one of the largest societies in Turkey having members from all chemistry sectors. We aim to promote and disseminate knowledge concerning several topics and technologies related to Environmental Chemistry. Key themes of this congress are Atmospheric Chemistry and Air Pollution, Water Treatment, Geochemistry, Soil, and Agricultural Environmental Chemistry, Resources and Sustainable Materials/Energy, Nature, Sources and Environmental Chemistry of Hazardous Wastes, Waste Minimization, Utilization and Treatment, Toxicological Chemistry, Membrane Technologies, Nanomaterials and Nanochemistry, Green Chemistry and Industrial Ecology, Environmental Analysis and Monitoring.
The primary goal of this congress is to bring together researchers, students, scientists, and experts from universities, institutions, industries, and societies to provide them a unique platform for sharing worldwide knowledge related to environmental concerns. Special sessions, invited speakers, oral presentations, poster sessions, and workshops will be included in the conference program. We are planning to organize a world-class event by providing research sessions populated by presentations on emerging technologies and advanced research in the environmental chemistry.
Antalya is a world-famous tourist city that showcases the beautiful historical and natural beauty of Turkey. In November, the weather conditions in this city are quite friendly and pleasant. There are many world-class hotels that will make your stay delightful.
Prospective participants are invited to submit abstracts following the guideline posted on the conference website (www.envirochem.org.tr) and choosing one of the themes listed above. Submitted abstracts will be peer-reviewed, and the final allocation of abstracts to themes and topics will be decided by the Program Committee.
We would be honored if you confirm to take part in the congress.
Best regards
Prof. Mustafa SOYLAK, Erciyes University, TURKEY
Prof. Ali ALKAN, Karadeniz Technical University
Prof. Ahmet DEMİRAK, Muğla Sıtkı Koçman University, TURKEY
3. International Environmental Chemistry Congress EnviroChem 2021 düzenleyicisi
Etkinlik başlangıcı
Etkinlik sonu
Etkinlik Sona Erdi
0

days

0

hours

0

minutes

0

seconds
Zaman Çizelgesi

Misafirler

Katılım

Mağaza

Hava Durumu Tahmini

Yorumlar
Hava durumu verileri şu anda bu konum için mevcut değil
Hava Durumu
Bugün stec_replace_today_date
stec_replace_current_summary_text
stec_replace_current_temp °stec_replace_current_temp_units
Rüzgar stec_replace_current_wind stec_replace_current_wind_units stec_replace_current_wind_direction
Nem stec_replace_current_humidity %
Hissedlien stec_replace_current_feels_like °stec_replace_current_temp_units
Hava Durumu Tahmini
Tarih
Hava Durumu
Sıcaklık
stec_replace_5days
Tarafından desteklenmektedir openweathermap.org