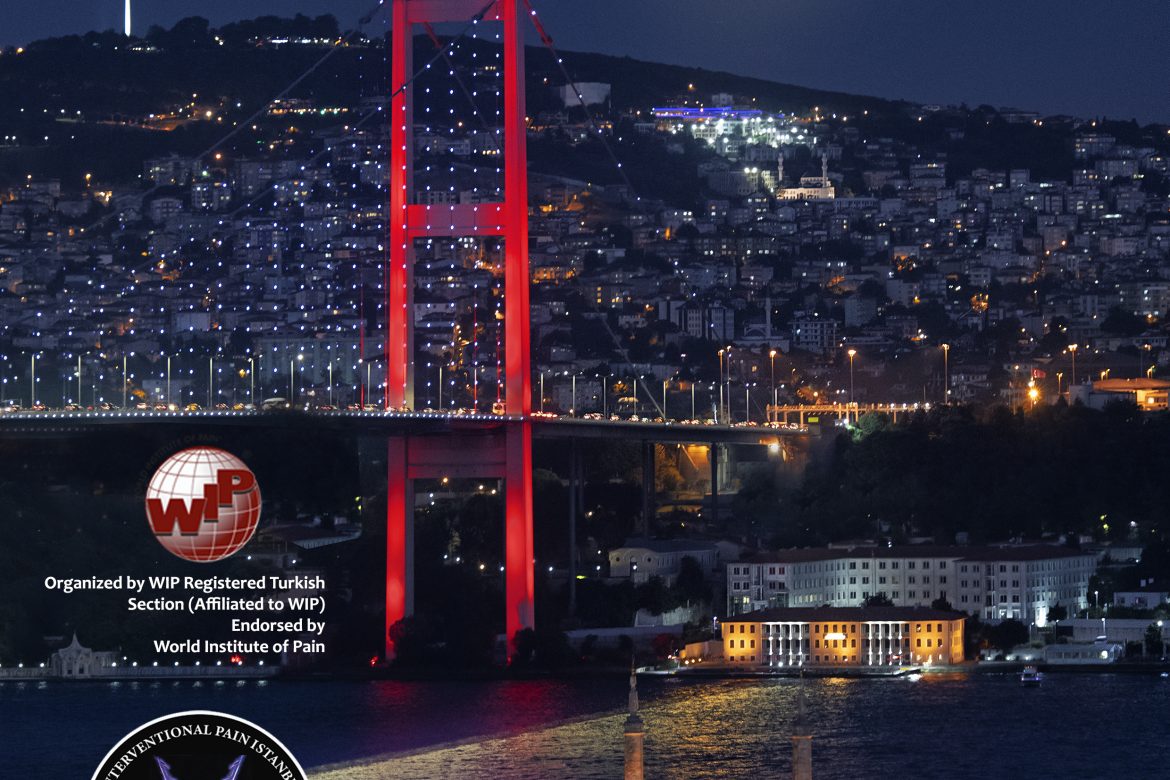 Dear Colleagues,
The main purpose of World Institute of Pain is to educate and train our colleagues by including local hands-on training, international seminars, and exchange of clinicians all over the world .
Last year we organized the 3rd Interventional Pain Istanbul,Virtual Symposium with 175 participants from 35 countries between 23-24 October 2020.
It is again a great pleasure and honour for us to welcome you all to the 4th Interventional Pain Istanbul, Pain Symposium and Cadaver Workshop endorsed by World Institute of Pain and organized by WIP Turkish Registered Section in Istanbul, Turkey to be held between 22-23 October 2021 .
We will organize a Cadaver Workshop during the symposium which will be lively performed and broadcasted to all over the world where our colleagues will perform the procedures and you will be able to ask questions interactively.
The cadaver workshop and simulation will include all important the interventional procedures for chronic pain. Our main goal is to present the scopes of pain medicine, algology on an interventional level.
The scientific program committee established on a multidisciplinary multinational level, formed of well known colleagues who gave their whole lifes to the Pain Medicine will give you the real taste of pain medicine, algology.
We are looking forward to welcome you in the 4th Interventional Pain Istanbul.
On behalf of the Organizing Commitee
Serdar Erdine, MD,FIPP
Chair of WIP Registered
Turkish Section
Peter Staats,MD,FIPP
WIP President
İbrahim Aşık,MD,FIPP
Co-chair of WIP
Registered Turkish Section
Etkinlik başlangıcı
Etkinlik sonu
Etkinlik Sona Erdi
0

days

0

hours

0

minutes

0

seconds
Zaman Çizelgesi

Misafirler

Katılım

Mağaza

Hava Durumu Tahmini

Yorumlar
Hava durumu verileri şu anda bu konum için mevcut değil
Hava Durumu
Bugün stec_replace_today_date
stec_replace_current_summary_text
stec_replace_current_temp °stec_replace_current_temp_units
Rüzgar stec_replace_current_wind stec_replace_current_wind_units stec_replace_current_wind_direction
Nem stec_replace_current_humidity %
Hissedlien stec_replace_current_feels_like °stec_replace_current_temp_units
Hava Durumu Tahmini
Tarih
Hava Durumu
Sıcaklık
stec_replace_5days
Tarafından desteklenmektedir openweathermap.org