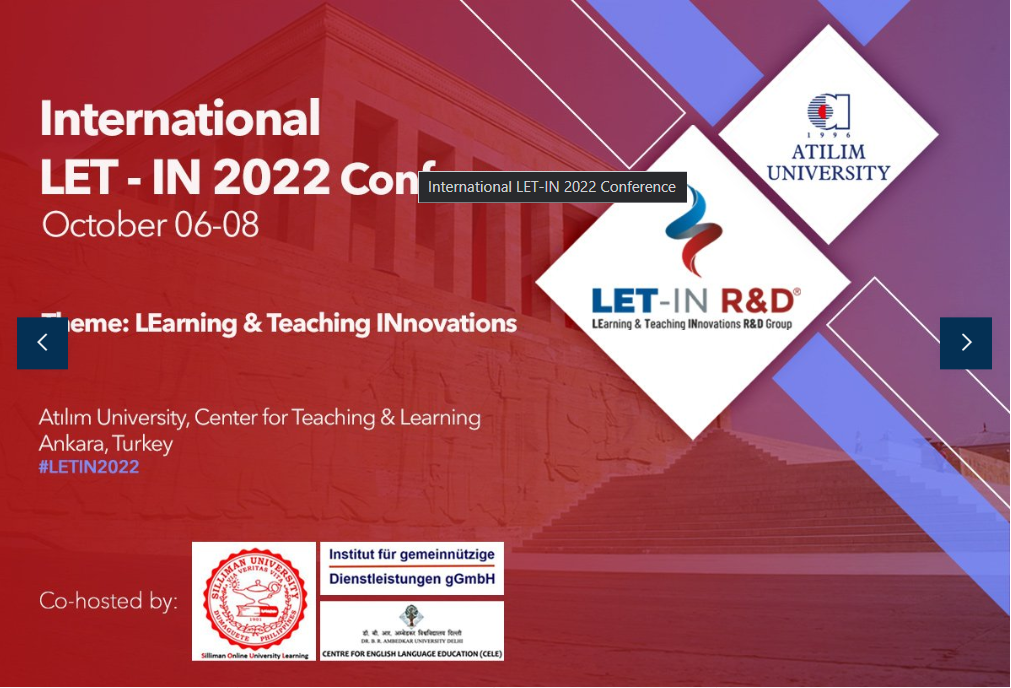 International LET-IN 2022 Conference
241
241 people viewed this event.
Dear Colleague(s),
First of all, we would like to thank you for your interest in the International LET-IN 2022 Conference, which will be held at Atılım University, Ankara, Turkey between 6-8 October 2022. You can find more information about the details of the conference on our official website (https://letinrd.org/conferences/international-let-in-2022-conference).
Please read the following guidelines before submitting your abstract.
1. Abstracts should be maximum 1500 characters. If you exceed this limit, you will get a message about it and your submission will not be recorded.
2. The language of the presentations can be either in English or in Turkish at the conference; however, the submitted abstract should be in English.
3. You should choose the language of the presentation during the submission. The conference program will be organized accordingly.
4. Since this is a hybrid conference, there will be both virtual presentations and f2f presentations. Please choose the format of your presentation.
5. After you click on the submit button, you will receive a confirmation e-mail about your submission. If you do not receive an email, please check your spam mail or make sure that you have written your email address correctly.
6. The abstracts should be written in proper English. Please make sure that you proofread your abstract before you submit it.
If you have any questions, please do not hesitate to send an email to us ([email protected])
We are looking forward to seeing you at the conference!
Additional Details
Etkinlik Ülkesi - TÜRKİYE